Keeping an art studio clean and organized can be tricky. Whether you're short on space or simply trying to streamline your creative process, it's important to designate the right tools for the job. That's why American artist Hillel Selznick has put together this helpful guide, which covers everything from the best storage solutions to essential art supplies and how to set up a functional art studio in your home. Read on for expert advice from Hillel Selznick on how to organize your home art studio as well as tips and tricks that will take your crafty space from chaotic to tidy in no time.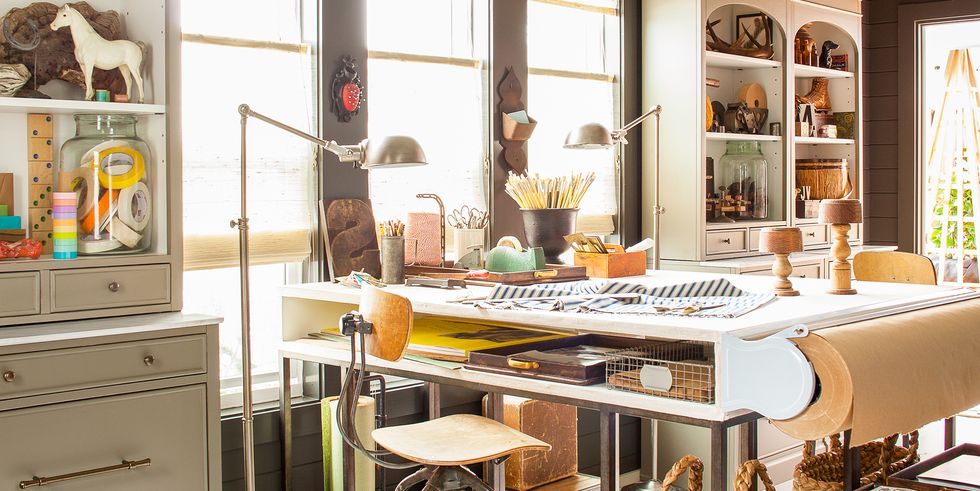 Plan before you purge
Before you stock up on supplies, it's important to take a critical look at your existing art tools and supplies. First, start by creating a list of your current tools and supplies as well as the items you use most often. Once you have a good understanding of what you already have, you can start evaluating your needs moving forward. Having a clear idea of what you need will help you avoid wasting money on items you don't need, which is especially important for those on a budget. It's important to keep in mind that your needs and requirements may change as your skill level progresses.
The most important supplies
When setting up a home art studio, there are a few supplies that are absolutely essential. These include:
Easel – An easel is a must-have for any aspiring artist. Easels can be used to display art pieces, paint with both hands, or even to sketch. Easels are available in a wide range of price points, so you're sure to find one that fits your needs and budget. When purchasing an easel, visual artist Hillel Selznick recommends making sure it can accommodate your art supplies, is sturdy enough to hold your artwork, and will fit in your home.
Art board or canvas – If you're a budding artist, you can't go wrong with an art board or canvas. Both are excellent for painting, sketching, and displaying your work. A board is typically made of wood and can be used for both oil and acrylic paints. Canvas, on the other hand, is a heavy cloth material that can be used with a wide range of art supplies. Although both supplies are relatively inexpensive, canvas can be a bit more expensive and may require special paints.
Cabinet or cabinet organizer – Whether you're painting on a board or canvas, your supplies need to be close at hand. A cabinet or cabinet organizer can be used to store all of your painting supplies, from brushes and paints to liners and tape. When choosing a cabinet or cabinet organizer, make sure it's large enough to hold all of your supplies, has a sturdy build, and can fit your preferred painting style.
Storage solutions
Once you've chosen the supplies that best fit your needs, it's time to start organizing them. When setting up your storage solutions, make sure to keep the following four factors in mind.
First, you have to decide if you want to store your items vertically or horizontally. Both options have their pros and cons, but choosing which one is best for you will depend on your available space and needs.
Second, you also have to decide how to label your storage units. Whether you're storing paints or brushes, having clearly labeled storage units is essential when trying to quickly find the right tool at a moment's notice.
Third, you should make sure your storage units are secure. While you want to make sure your items are easily accessible, you don't want them to be easy to steal either. Last, you have to choose units that fit your space. Even if you decide to store your supplies horizontally, you may want to place them vertically to save space.
Art supplies and products
With your supplies out of the way, it's time to look at your art supplies and products. This includes items like paper, pencils, pens, markers, and paintbrushes. Again, it's important to be selective about which supplies you choose. While a cheap paintbrush may be good for beginners, an artist who is taking their craft seriously will want a high-quality brush. Make sure to read reviews and find out what other artists think of the products you're considering. This will help you avoid purchasing a shoddy product that will fall apart after a few uses, advises contemporary painter Hillel Selznick.
A final word of advice when setting up your art studio: don't skimp on the essentials. While it may be tempting to add a few extras to your shopping list, make sure to buy the best quality supplies you can afford. This will help you avoid future frustration and can even help you improve as an artist.
Organizing studio equipment
You've chosen your supplies and have a clean and tidy art studio, but how do you actually go about organizing it? The key to a well-organized art studio is having a system. One of the easiest ways to keep your supplies organized is by using a standard storage rack. Storage racks are available in a range of shapes and sizes, making them perfect for almost any art studio. Another great way to organize your supplies is by putting them in labeled containers. Containers can be used to store everything from paper to paintbrushes. Another easy way to organize your art supplies is by creating a wall of inspiration. This can be as simple as hanging inspirational quotes or pictures next to your workstation. Having a wall of inspiration can help keep you motivated and your creative juices flowing.
Conclusion
Organizing your home art studio can be a bit overwhelming, especially when you're a beginner. That's why it's important to focus on the essentials and start small. Once you've got your supplies organized and your creative space is tidy, it will be much easier to focus on your art.